Portable Beach Umbrella The PortaBrella®
$39.95
See PortaBrella Beach Umbrella on Poipu Beach Video (customer video)
See PortaBrella Beach Umbrella on Waikiki Beach Video (customer video)
The PortaBrella® Portable Beach Umbrella. Finally, a beach umbrella suitable for air travel or any situation where a compact beach umbrella is desired. This full-featured folding beach umbrella is a BeachUmbrellas.com exclusive. Be sure to also see portable The TeleBrella® telescoping beach umbrella.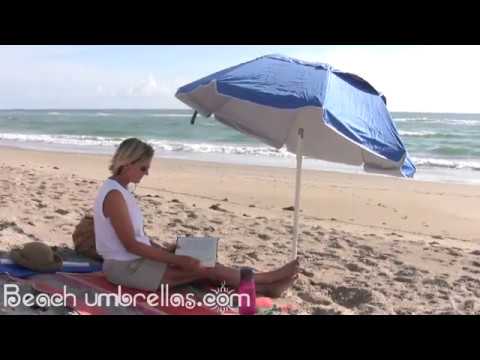 | | |
| --- | --- |
| Don't forget to check out our latest PortaBrella® add-on. It's a integrated beach umbrella pole table that replaces one of PortaBrella's® center poles with a compact handy beach table keep your food, drinks and gear high, dry and sand-free while you guard the horizon or play in the surf. Best of all…? It's just $9.95! (royal blue) | |
| Secure your shady spot on the beach with this handy tethering kit $14.95. You can add these tethers to this umbrella at checkout. | |
Additional information
| | |
| --- | --- |
| Weight | 5 lbs |
| color | Royal Blue, Nautical Black, Nautical Blue Striped, Sunburst |
Best Beach Umbrella
I received my first Portabrella as a gift over five years ago. Loved the paisley light blue/white design on the umbrella. Soon loved it for its stability when used and its portability. She took three trips with me to Hawaii and two to Mexico. Being able to bring it with me as a carry-on was a plus which allowed me to save $$ as I did not have to rent an umbrella at my vacation destinations. People often came up to ask about my Portabrella. This summer my loved Portabrella met is match with high winds during a beach visit. I was not able to repair it and visited web site immediately to purchase a replecemet. I opted to purchase two. Only dissaponting thing was that I came to find out that the Paisley Light Blue/White design I fell in love with was no longer manufactured. I am not happy with the solid blue option available, but still ordered two. Why —- because afterall I knew that if I purchased from any other company I wouldn't have been satisfied.
Great travel umbrella
We recently travelled to Bermuda to visit some of their great snorkeling spots, most of which have no beach amenities. This umbrella worked out perfectly. It shaded both me and my husband and protected our towels and bags from the few rain showers that passed through. We also purchased the rubber hook accessory that allowed us to hang some light clothing and keep them from getting wet or sandy. The umbrella fit into a large suitcase but not my carry-on. As much as I love the water I DON'T love baking in the sun so I was super thankful that we brought this along!
Best Umbrella on the Market and I have tested them all!
For two people to use this is by far THE BEST umbrella on the market. No joke! I am at the beach every weekend all year around. I live in San Diego and people are always visiting from out of town who want to go to the beach. To get to the beach you usually have to go down some sort of hill or cliff...and nobody want to carry a heavy and long umbrella. This is so compact you don't even notice it while you are carrying it. I have ordered several different umbrellas over the years (mostly off of Amazon). Upscale, expensive, inexpensive, big, small, compact, wind proof (none of them are windproof). I found major flaws with each and everyone of them usually by the end of one season. I can confidently say this is the THE BEST umbrella I have used so far. When and if I need to I will order another one in the future. I ordered the table attachment and highly recommend you do as well. You can thank me later as it is an awesome feature. Also, I do not use the screw feature directly into the sand. Get a the adapter off amazon called "beach umbrella sand anchor" which is white with two wide handles to stabilize the bottom and bury it deep into the sand. That is the best anchor I have found so far.
The perfect size for taking with you on an e-bike
We were looking for a beach umbrella that we could take with us on our electric bikes. The size is perfect for attaching to the back rack and the coverage is perfect for two beach chairs. We also bought the hooks that wrap around the pole and they are surprisingly useful. We set it up on a windy day and it was rock solid.
Portable, Lightweight, Full Coverage
We use this for the beach. Its lightweight and easy to carry in a backpack (it only sticks out a bit).